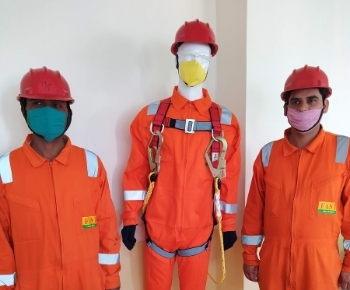 Survival is the innermost instinct of any living being on the planet earth.
WE believe every human being has a built-in safety compass for his survival. At the same time, majority of human beings have tendency to become sluggish over a period when there no experience of direct threat to their survival.
All we need to do is to calibrate that Safety-Compass with right information with emotional triggers. This intern helps an individual to align the compass to required safety angle.
Our mission is to help 10 million people to align their Safety-Compass and contribute in their wellbeing, health, happiness and prosperity.
Creative Training Solutions is integrated team of Engineers & Professionals engaged in the field of Training lines since over 12 years. We believe that every safety training program must address all competency elements (KASH attribute) i. e. Knowledge-Skills-Attitude-Habits as a design part. If the training program does not address these, then that training program is incomplete and of no use to the participants and the organisation. Our customized training programs focus on competency (KASH) enhancement with 'learning by doing' concept (Experiential learning and blended learning).
What Problem We Strive to Solve in Safety Sphere?
In-spite of best technology, stricter safety laws, better infrastructure, better safety equipments and their awareness, best in class safety processes and compliance standards, higher safety budgets and number of safety training programs the accidents rates are shooting up everywhere.
In the training domain, our diagnostics and experience say, most of the safety training practices are compliance driven and the training programs are either too technical or theoretical. Participants find it less engaging and boring at times. Their design is focused on mainly What, When Where, Who and How aspects and WHY completely missing. Many times, the programs are only for compliance and conducted as  knowledge/information dissemination event.  The impact of these safety programs is  ignored or not measured for oblivious reasons.
With our industry exposure, multi-sector experience and expertise, we are helping organizations to design and deliver customized safety training programs with the blend of Technical, Behavioral and Process aspects of Industrial Safety. They are designed exclusively for Leadership teams, Managerial teams and Supervisory teams through our diagnostic approach. This approach helps in enhancing the effectiveness of not only of the safety programs but also the overall safety culture of the organization.
All the programs are designed with focus of impacting KASH (Knowledge-Skills-Attitude-Habits) of the participants.
How do we attempt to solve the problem?
We use ADDIE approach for long term Safety Culture building interventions and for designing Customized Safety Training programs.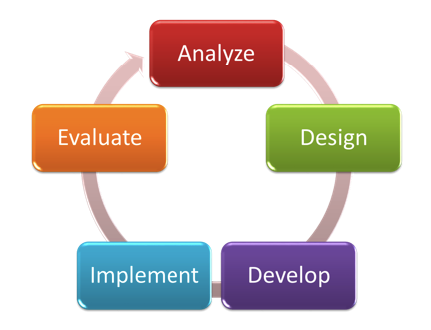 We invest significant time to analyze the requirement, based on inputs form various stakeholders we use our expertise in designing and piloting the programs. Our design essentially supports blended experiential learning methodologies. Level specific Assessments, Evaluation and Certification are inherent part of the design and development phase. Our association model support partnership with our client for period of six months to two years. During this period, we help our client to build the internal capability for developing safety culture and deliver the programs.
Why it is necessary to solve the problem?
To reduce the direct and indirect cost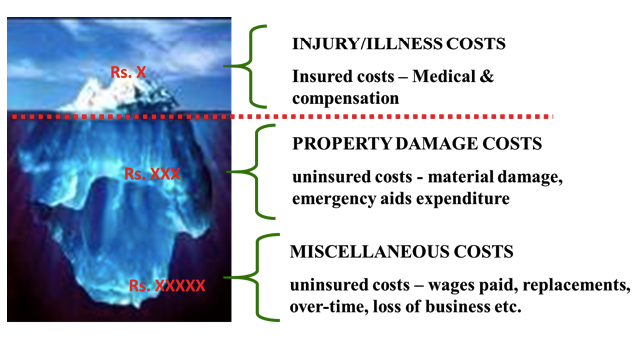 Indirect Benefits that extend beyond the cost considerations
Productivity
Quality
Employee Relations
Customer Satisfaction
Insurance Cost
Public Image
Help to build world-class safety culture.
Statistics show that 98% of all injuries are the result of unsafe behaviors and actions of people.
Most companies concentrate their efforts on equipment.
Most of injuries and near misses are the result of unsafe acts of persons other than the injured employee.
Other Benefits
Reduce injuries and modify employee behavior.
Reinforcing safe work practices and eliminating risk behavior.
Reduce costs related to injuries and incidents.
Raise overall safety awareness.
Increase observation skills.
Communicate management commitment to safety.
The true benefits of safety improvement are about people
Injuries are prevented and lives are saved.
Employees will be spared from disabling injuries and lost time from work.
Employees will come home to their families safely.
It ensures overall wellbeing of the society.
Whom are we associated with for Safety Initiatives?
At present we are associated with Tata Power Skill Development Institute as a knowledge partner in Safety and have been certified to deliver following value add:
Design level specific customized safety training modules including assessments and certification:(Basic Level-1, Working at Height Level-2, Supervisory Safety certification Level-3)
Deliver Safety training program and certify people at all the above levels.
Who are the professionals in our team?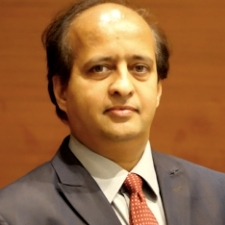 Harendra Deshpande
Harendra is the founder-director of Creative Training Solutions. He is an Electrical engineer has a rich experience of over 25 years in O&M, corporate, human resources, learning and development domains. His expertise is in design, development and implementation of customized people development systems and processes. He has held senior managerial positions at blue chip companies like Tata Power and Suzlon Energy.  Today, as an Entrepreneur, Coach and Mentor, his passion is to add value to the leaders of various organizations and  help them draw a growth curve that is rooted in its culture and values. He is a guest faculty at TMTC, CIRT and YASHADA, Pune. He has designed unique TCM model for helping individuals to achieve their goals.
In his free time, Harendra prefers to read. And when he is not reading, he enjoys Hindustani classical music. He also wields his pen to write abstract poetry. When he's not writing, he loves to watch drama or sports. His eclectic interests keep him in tune with the human spirit.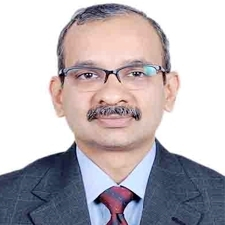 Shreekar Purandare
Shreekar is dynamic professional with more than 20 years of diverse experience in Industrial Engineering, Consultative Sales, Strategic Planning, Education, Learning & Development, Organizational Development. He has been working closely with the many organizations on Talent Development initiatives since last 15 years.  He is experienced in understanding business needs, enabling strategic & cross-functional collaboration and partnering with leadership teams to improve business performance. Skilled in developing and driving talent development strategies and organization wide transformation & learning initiatives, delivering training interventions, implementing talent management solutions and evaluating training effectiveness. He has been able to transform capabilities to meet the desired state of participants and organization's using innovative methodologies during his sessions.
Shreekar holds bachelor's degree in Industrial Engineering from Pune University. He is certified Organizational Development Specialist (Analyst & Developer)' by Carlton Advanced Management Institute, US (CAMI) & Middle Earth, India and also an Erickson Certified Coach.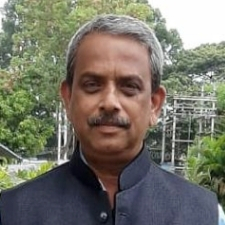 Vivek Parchure
Vivek is an assorted mix of impressive work experience. He is working as a consultant, Facilitator and Assessor and is involved in designing and conducting various types of interventions in Outdoors and OD.
He is a Mechanical Engineer started his career as a Project Engineer with Innovative Technomic Pvt Ltd. and worked on various projects related with defence. Test rigs for Alternators, Landing gear retraction systems, Auto pilot systems for Aviation; a test rig for generators on advance tactical vessels for the Navy and a hydraulic unit required for controlling the direction of missile launcher for the Army are few of the
noteworthy his projects. Later as an independent consultant he worked in the field of designing and detailing conveyors for cement, coal and dairy industries serving clients like Alfa Laval, Krupp industries, Thermax, Space Age, Magadha consultancy and Mahananda dairy for four years.
He has completed his internship (May 2000 to May 2003) in Applied Behavioral Science through 'Aastha', the institution based at Bangalore. He is now the Institutional and Governing council member of 'Aastha' and is involved in designing and conducting the Internship and labs.
He also is an accredited MBTI Consultant.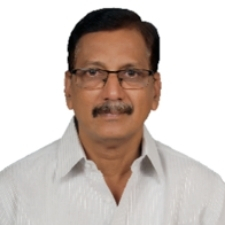 Jaiprakash Katkar
Jaiprakash is versatile Electrical supervisor with more than 31 years of experience in HT and LT Electrical Maintenance at Tata Power Trombay Thermal Power Station. 
At the beginning of his career at Tata Power, he was deputed to Al-Khobar Project in Saudi Arabia between 1982 to 1984, where he had worked in plant commissioning activities. 
He had completed his trade apprenticeship in Wireman trade for one year at Bhira Generating station and then Technician Training in Electrician trade for one and half year at Khopoli Generating station.
At Tata Power besides his regular job, he was actively involved in Safety Training, Electrical Safety training, Fire-fighting training and TBEM Training. He was the key driver of Tata Power Energy Conservation